Audi's all-electric lineup just got larger. With the new Q4 E-tron SUV, released in concept form at the 2019 Geneva Motor Show, Audi looks to strengthen its presence in the – sure to be crowded – all-electric SUV market.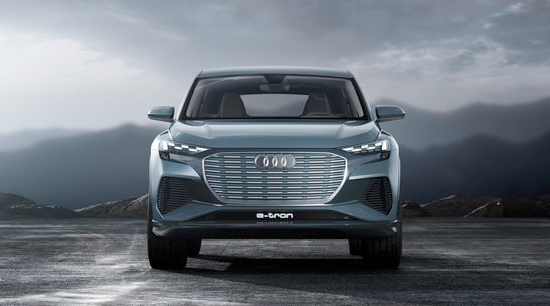 Scheduled to begin production in late 2020, the Q4, Audi's 5th electric vehicle is a scaled down version of its E-tron SUV series with the same qualities and efficiencies you've come to expect from Audi craftsmanship.
autobahn-performance.com takes a closer look at the new Audi Q4 E-tron's specifications, interior, exterior, and performance.
Audi Q4 E-tron all-electric SUV Specs
As Audi looks to strengthen its presence in the all-electric car market, its recent unveiling of the Q4 is a scaled down version of its already successful E-tron all-electric SUV. The following is a comparison of the two electric versions:
| | | |
| --- | --- | --- |
| | Audi E-tron | Audi Q4 E-tron |
| Length | 16.08 feet | 15 feet |
| Height | 5.46 feet | 5.25 feet |
| Width (with mirrors) | 7.19 feet | 6.25 feet |
| Battery Capacity | 95 kWh | 82kWh |
| Miles (per full charge) | 160 | 280 |
| Speed | 0-60 in 5.5 seconds | 0-62 in 6.3 seconds |
The Audi Q4 e-tron is built on Volkswagen's 'Modulare E-Antriebs-Baukasten,' which translates to 'modular electric drive matrix.' VW is wagering heavily that its MEB platform will serve as the foundation for the 10 million electric vehicles it projects to sell.
Intended to be an alternative to the Mercedes EQC, the new Audi Q4 E-tron is expected to hit the market in late 2020 with an estimated price tag of between $72,500 and $73,000.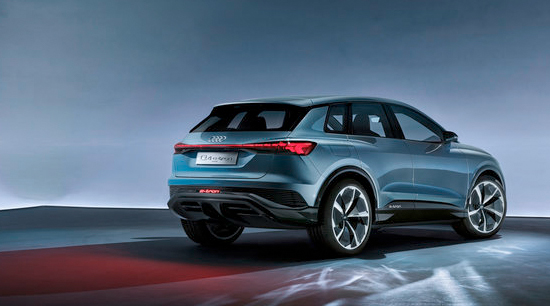 Audi Q4 E-tron Interior
Staying true to the brand's tradition of interior comfort, practicality, and class, you can expect to find the following in the Q4 E-tron:
• Upper-class plastic molded interior.
• Floor covering made from recycled material.
• Double-stitched Alcantara covered seats.
• Spacious interior with extra front and rear legroom.
• More storage space due to the lack of engine components found in gas-powered vehicles.
• Upper section of the cabin clad in lighter materials for an airier feel.
• One 12-inch display behind the steering wheel. (speedometer, gauges, indicators, etc.)
• One 12-inch display in the center of the console. (navigation, stereo system, etc.)
• Head-up display able to project directional and other information within your line-of-sight of the road.
• In-car Amazon Alexa integration.
• Smartphone integration compatible with Apple and Android devices.
• High definition digital instrument display.
• Amplified driving experience through connectivity with the myAudi app.
The Q4 features, as outlined above, spent years in development with attention being given to every interior and exterior detail.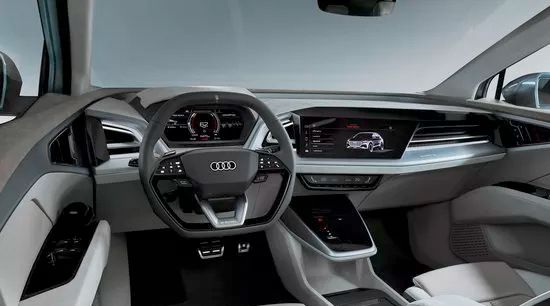 Audi Q4 E-tron Exterior
At first glance, the Q4 may appear to be like any other Audi SUV, but a closer look reveals it to be more similar to the company's e-tron electric car, given these features:
• Sealed grille for better aerodynamic performance.
• 22-inch alloy e-tron style rims.
• Identical e-tron lower body features.
• Rear light bar illuminated in sequence when the vehicle is locked or unlocked.
• Solar Sky paint – with reflective properties – that helps keep the cabin cooler, while conserving battery life.
• And lest we forget, the illuminated e-tron insignia.
Whether for aerodynamic purposes or for aesthetic appeal, the exterior detail of every Audi model is heavily scrutinized and tested for its practicality and efficiency. As noted, the all-electric e-tron parades an attractive and technologically forward exterior that many are finding appealing.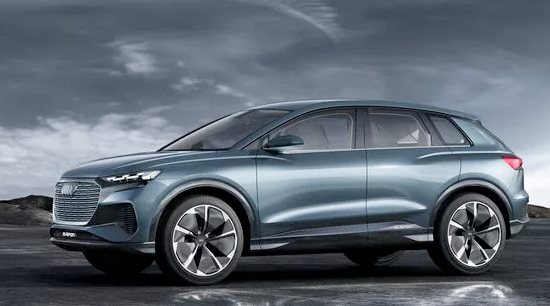 Audi Q4 E-tron Performance
When the Q4 comes to market in 2020, it will likely be offered with a variety of power options. The concept car unveiled at the Geneva Motor Show is equipped with the following specifications (Nm means Newton meter and is a measurement of torque):
• Rear 150kW motor with 310Nm of torque.
• Front 75Kw motor with 150Nm of torque.
• Both motors allow the Q4 to accelerate from 0 to 62mph in 6.3 seconds and reach a maximum speed of 112mph.
• Driven moderately, the Q4 can get up to 280 miles on a single charge.
• With a clever four-wheel drive system, the vehicle is able to send power to whichever tire can best utilize it.
• The 1,124Lb battery pack sits low in the car's floor, giving the Q4 perfect weight distribution and low center of gravity.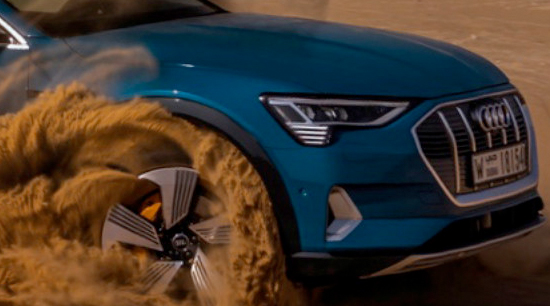 With such features, the Audi Q4 e-tron is much more dynamic that it may appear to be, and surprisingly agile when reining in auto body lean and turning corners.
Audi Q4 E-tron Luxury and Practicality
The e-tron series is Audi's response to their parent company – Volkswagen Group's push to electrify their entire lineup by 2030. The Q4 is Audi's 5th electric vehicle, and it flaunts all of the qualities and efficiencies expected from Audi craftsmanship.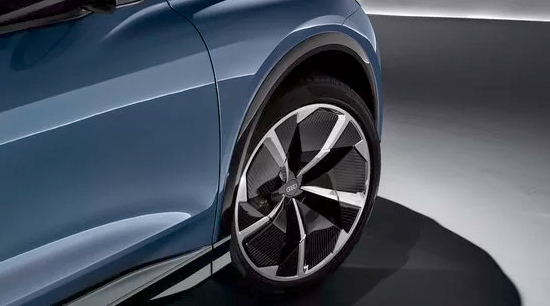 In this article, you discovered the Q4 e-tron's specifications, interior and exterior features, and performance abilities.
As the auto industry turns the corner from combustion to electric propulsion, it's no surprise that automakers are raising the bar with convenience, luxury, and dependability. Visit audiusa.com for more information on the e-tron line of vehicles.
Sources:
https://www.audiusa.com/models/audi-e-tron
https://www.gims.swiss/premieres/world-premieres/q4-e-tron-concept
https://www.theverge.com/2019/3/5/18251528/audi-q4-etron-ev-concept-geneva-auto-show-2019
Photo Credit:
© Geneva International Motor Show
© The Verge
https://plus.google.com/113049509479264030696
Autobahn Performance
6476 Buford Hwy
Norcross
,
GA
30071
(770) 409-8288