If you could avoid moving violations, an accident, or a fatality by following some simple driving safety tips, would you do it?
You can see irresponsible driving by taking a short drive around your neighborhood, let alone getting on the highway. The safety of your vehicle and its passengers is paramount each and every time you get behind the wheel.
autobahn-performance.com presents 10 of the most essential highway driving tips to help you arrive safely at your destination and gathered information on highway statistics.
Highway Driving Safety
By improving your driving habits, the chances of becoming a statistic are significantly reduced. The following 10 highway driving safety tips will aid you in avoiding potentially life-threatening situations, subsequently making the roadway a safer place to be.
Highway Safety Tip #1 – Seatbelts
Wear your seatbelt every time you get into a vehicle, regardless of the length or reason for the trip.
In many states, failure to wear your seatbelt is a primary offense and can result in a fine and violation points added to your license. For information about your state's seatbelt laws, see this PDF ghsa.org/sites/default/files/2019-04/SeatBeltLaws_Apr19.pdf
Highway Safety Tip #2 – Speeding
Posted speed limits are not "recommended speeds," they are lawful limits at which you may travel on roadways. Exceeding the posted speed limit may result in fines, court costs, legal fees, and points added to your license.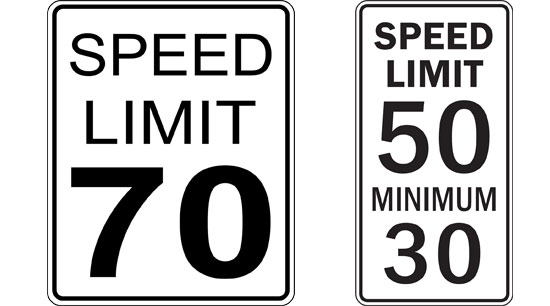 On highways, you will often see "Minimum Speed Limit" signs. These are posted to keep traffic flowing at a reasonable pace and are enforced the same way as "maximum" speed limits.
Regardless of the car you drive, the faster you travel, the less control you have over the vehicle and the less effective your vehicle's safety features will be when they are employed to protect you. Read more about the dangers and consequences of speeding at nhtsa.gov/risky-driving/speeding
Highway Safety Tip #3 – Intoxication
There is nothing wrong with going out and having fun. However, everything is wrong when you operate a vehicle while inebriated or intoxicated.
Charges for driving while intoxicated can range from misdemeanors to felony offenses, and penalties may include driver's license revocation, fines, and jail time. It's also costly. First-time offenders can expect to pay upwards of $10,000 in fines and legal expenses.
Some States now require offenders to install ignition interlock devices at the driver's expense. Ignition interlock devices are breath test devices connected to a vehicle's ignition. The car will not start unless the driver has a BAC (Blood Alcohol Content) below a pre-set limit, usually .02 g/dL.
For further information about driving while intoxicated, visit nhtsa.gov/risky-driving/drunk-driving
Highway Safety Tip #4 – Work Zones
Expect slower traffic, lane narrowing, flaggers, workers, and construction vehicles when navigating through a work zone on a highway. The fines for moving violations in work zones are usually doubled, and in some states, certain violations result in mandatory jail time.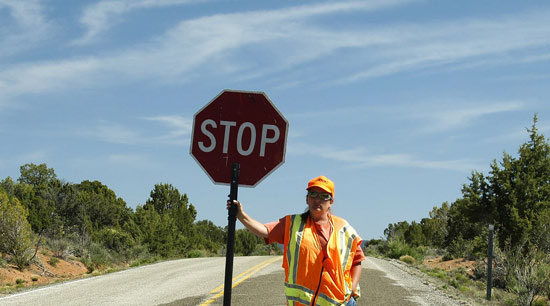 When approaching a work zone remember the following:
• Obey the posted speed limit.
• Be prepared to slow down further when needed.
• Obey the instructions from flaggers.
• Change lanes only when pavement markings and traffic conditions permit.
• Watch for unexpected workers, vehicles, or equipment entering your lane without warning.
Be particularly attentive in work zones at night or in adverse weather conditions. Reduced visibility and changing traffic patterns can create extremely hazardous conditions.
For more on work zone safety for drivers, visit safety.fhwa.dot.gov/wz/resources/fhwasa03012/
Highway Safety Tip #5 – Distracted Driving
When you operate a vehicle, you should be focused only on the safe operation of that vehicle. The more distractions you engage in, the higher the possibility becomes of being involved in or causing an accident.
There are 3 types of distractions:
Visual – taking your eyes off of the road
Manual – taking your hands off of the steering wheel
Cognitive – taking your mind off of driving
Using your phone while driving is especially dangerous because it requires all three types of distraction. Taking your eyes off of the road for a mere 5 seconds is long enough to travel the length of a football field at 55mph, and plow into the car ahead of you that made a sudden stop.
Learn more about distracted driving and cell phone usage while driving at nhtsa.gov.edgesuite-staging.net/Driving+Safety/Distracted+Driving/Policy+Statement+and+Compiled+FAQs+on+Distracted+Driving
Highway Safety Tip #6 – Blind Spots
While driving, you typically have 2 blind spots which approaching vehicles may occupy. On either side of your vehicle, the blind spots are located in the area that your rear view mirrors may not cover.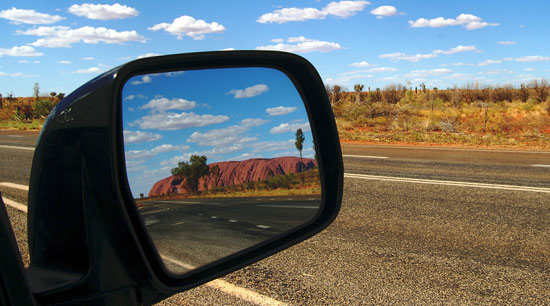 The truth of the matter is that blind spots are a past issue. Vehicles produced in the last 20 to 25 years with left and right side mirrors, the mirrors can be adjusted to eliminate blind spots. Here's how it's done:
Step 1 – Adjust your rear-view mirror to give you an unobstructed view directly to the rear.
Step 2 – Lean your head to the left until it almost touches the window. Then, adjust the left mirror so that you can barely see the left side of your vehicle.
Step 3 – Lean your head to the right near the middle of the vehicle and adjust the right mirror so that you can barely see the right side of your vehicle.
When you return to your normal driving position, you should not be able to see your vehicle in either of the side mirrors. Since it would be challenging for your car to hit itself, there really isn't a need for it to be in your rear-view line of sight.
Step 4 – Verify that you have eliminated your blind spots by identifying a car one lane to the left in your rear-view mirror that is coming up to pass you. As the vehicle disappears from the rear-view mirror, it should appear in the left side mirror and remain there until passing you, at which time, the vehicle is in your direct line of sight. Repeat this for the right side mirror and make any necessary adjustments once you have reached your destination.
For more information about eliminating blind spots, visit pages.cs.wisc.edu/~gdguo/driving/BlindSpot.htm
Highway Safety Tip #7 – Engine Trouble
Keeping your vehicle in good operating conditions is a primary responsibility for car owners. However, things happen and often do so without warning.
When your motor loses power or shuts down, try to get your car as far off the right side of the road as possible to avoid becoming a hazard for other drivers.
Contact your insurance carrier or the number for emergencies in your owner's manual to get roadside assistance dispatched to your location. In many cities across the US there are DOT (Department of Transportation) sponsored emergency response vehicles for highway emergencies such as this.
To learn more about engine or battery problems and roadside assistance, read autobahn-performance.com/audi-vw/my-car-wont-start-battery-dead-alternator/
Highway Safety Tip #8 – Fatigue
Highway travel can be tiring. When combined with other factors like lack of sleep, exhaustion, or stress, a dangerous situation can be created as you try to doze off. Fatigued driving is impaired driving!
Avoid potentially fatal accidents by resting before traveling, and making frequent stops (once every 90 minutes to stretch, eat, or use the restroom).
Before you reach a point in which you find yourself nodding off or losing the capacity to keep yourself awake, pull over in a safe location and rest.
Read more about the dangers of fatigued driving at nsc.org/road-safety/safety-topics/fatigued-driving
Highway Safety Tip #9 – Motorcycle Awareness
We share the road with cars, trucks, big rigs, economy cars, and motorcycles. There is room for everyone on the road, but extra attention should be given to the safety of those operating motorcycles.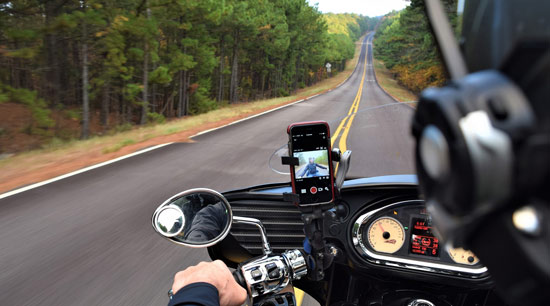 Treat a motorcycle as if it were a regular sized car by:
• Keeping a reasonable distance behind them in traffic (3 car lengths minimum).
• Avoid cutting them off when you change lanes (refer back to tip #6 for blind spots).
• When you detect a motorcycle behind you in traffic, avoid making sudden lane changes or braking (they may be traveling at higher speeds than they appear to be).
• Always signal where you intend to go (this applies at all times).
For downloadable reading material about motorcycle awareness and sharing the road, visit trafficsafetymarketing.gov/get-materials/motorcycle-safety/motorist-awareness-motorcycles
Highway Safety Tip #10 – Windshield Wipers
Your ability to clearly see the road ahead is essential to the safe operation of your vehicle. Besides keeping your windshield clean, your windshield wipers are one of your greatest assets during poor weather conditions.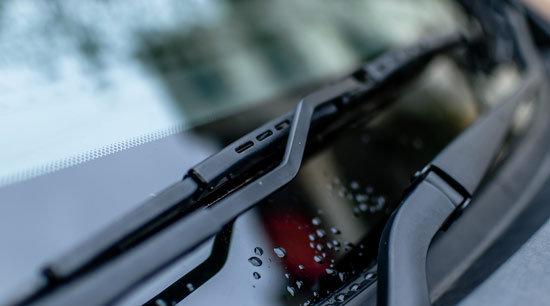 Wiper blades should be replaced as soon as you notice any difference in their ability to provide clear visibility. The typical recommendation is to have them replaced every 6 to 12 months.
Highway Statistics
Throughout your lifetime you've undoubtedly heard "Don't become a statistic." This article's purpose is to preserve your life and help you avoid becoming one of those statistics.
Fatalities – According to the US Department of Transportation, there were 37,133 roadway fatalities nationwide in 2017, and according to the Georgia Governor's Office of Highway Safety, 1,468 of those fatalities occurred in the state of Georgia. Also in Georgia:
Injuries – Over 140,000 individuals were injured in roadway incidents in 2017.
Seatbelt Citations – 141,707 seat belt citations were issued in 2017.
Impaired Driving – 41,289 were found to be driving while impaired and cited in 2017.
Speeding Citations – 601,905 speeding citations were issued in 2017.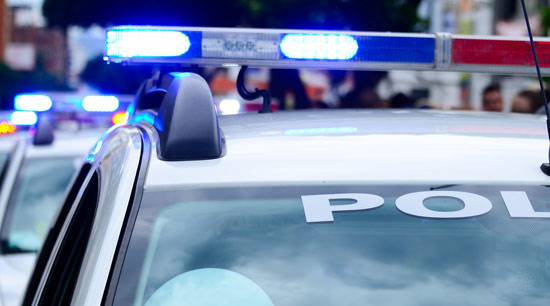 Visit nhtsa.gov/sites/nhtsa.dot.gov/files/documents/georgia_fy2017_ar.pdf for more information about traffic statistics in the state of Georgia, and crashstats.nhtsa.dot.gov/Api/Public/ViewPublication/812629 for more national statistics.
Highway and Vehicle Safety
Replace dangerous driving habits with those that create a safe environment on the road, and live to take another trip.
In this article, you discovered important highway statistics and 10 highway safety tips that promote better awareness of your surroundings.
Your failure to drive safely can result in expensive fines, catastrophic accidents, and death. By improving your driving skills, you and everyone you share the road with benefits.
Sources:
https://www.redcross.org/get-help/how-to-prepare-for-emergencies/types-of-emergencies/highway-safety.html
https://gahighwaysafety.org/
https://www.cdc.gov/motorvehiclesafety/impaired_driving/impaired-drv_factsheet.html
Autobahn Performance
6476 Buford Hwy
Norcross
,
GA
30071
(770) 409-8288