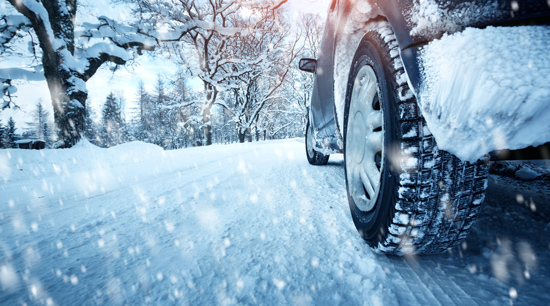 Driving is always full of surprises, because you only control your awareness and your actions. There are an infinite number of factors that can affect your commute and this article will focus on one of them – Snow.
In the event you find yourself in a situation in which you must take your vehicle to the streets during or after a snow storm, the Autobahn team compiled critical things to be aware of.
A Sufficiently Filled Gas Tank
The half tank rule is a critical and often ignored factor. You never know what lies ahead on the road and a simple rule of thumb is to never, ever let your gas tank drop below half a tank. There are times that you may find yourself stuck in traffic for hours on end, and running out of gas is the absolute last thing you want to be worried about.
Tire Tread and Chains to Keep Your Car on the Road
If you live in a region which sees snowfall on a regular basis, you are certainly aware of the benefits of having good tread or using chains on your tires. However, if you are in a region where snow is a rarity, the concept of using chains may seem foreign to you.
Regardless if you have chains or not, it is imperative to make certain that the tread on your tires is sufficient to keep you safely on the road. Check out this video to see how you can test the depth of your tread:
Tips for Using Tire Chains on Your Car
First, we must warn that it is important to properly install and use tire chains, as Insurance coverage does not typically extend to damages caused by use or installation of tire chains.
If you know that snow is on the way and you decide to purchase a set of quick-grip chains for your vehicle, here's a short "How To" video to get you started:
There are many options when shopping for tire chains. Consult your vehicle owner's manual for the correct specifications and your regular mechanic for advice on the appropriate type of chains best suited for your vehicle.
WARNING: Only use tire chains on roads covered with snow or ice. Driving on the bare road with chains may cause the chains to fail, resulting in severe damages to your vehicle.
Know the Route You Will Take
It is important that you know your route. Hills, bridges, and tight curves in the road can present dangerous obstacles in hazardous snow storms. As the temperature drops below 32 degrees Fahrenheit, all of the precipitation on untreated roads will begin to freeze.
As the roads ice over, your traction to climb hills and brake going down them will quickly be lost. If you cannot make it up or down a hill safely, seek an alternate route.
Bridges and overpasses freeze before roads. Roads only lose heat from their surface and take longer to freeze, while bridges are surrounded by cold air on the surface and below.
When the road takes a hard turn, your speed and the amount of traction you have (if any) will determine whether or not you stay on the road.
Snow on the Road and Getting Behind the Wheel
As snow begins to fall and stick to the ground, roads will quickly become slick and slippery. Your decision to get behind the wheel should rely on the following:
Traffic Conditions – If the snow has fallen and compromised rush hour, it would be prudent to wait until traffic volume has reduced, the less vehicles occupying the road will greatly reduce the potential for accidents and allow for a safer commute. Listen to local news stations to keep up-to-date on any accidents which may be obstructing your route and make necessary adjustments.
Vehicle Condition – The better condition your vehicle is in, the less risk you will run for experiencing a breakdown.
Tires and Chains – The tread on your tires is vital to maintaining traction and steering control. Once the snow and ice have accumulated on the road, applying chains to your tires will provide extra traction and steering control.
Brakes – If your vehicle is not equipped with ABS (Anti-Lock Braking System) brakes, or they are not functioning properly, it is strongly advised to keep your vehicle off the road until driving conditions return to normal. For more information on ABS brakes and their proper use, watch this video:
Your Condition – When taking to the road in potentially hazardous weather conditions, it is absolutely imperative that you be alert. If you are feeling drowsy, are medicated, have been drinking or are under the influence of any type of chemical substance, DO NOT attempt to navigate your vehicle. You will pose a direct threat to the personal safety of yourself and others on the roadways.
Vehicle Operation Safety Tips
Windshield Wiper – When you reach your destination and you have safely parked your vehicle, pull the windshield wipers away from the windshield (as you would to replace the wiper blades). If left on the windshield, they will get buried in snow accumulation and eventually freeze to the windshield.
Headlights & Fog Lights – While on the road during or after snowfall, keep your headlights and fog lights (if your vehicle has them) turned on. Visibility is greatly compromised in a snowstorm and your vehicles lights will help others see where you are.
Emergency Signals – As a snow storm worsens and visibility is even further compromised, you are forced to slow down even further. In this scenario, turn on your emergency flashers. Watch for others and drive with extreme caution.
There Is No Traction on Ice
Once the roads have iced over, there is minimal traction. Even with chains, navigating iced roads is extremely dangerous. You must slow down and be prepared to avoid vehicles without chains which will potentially be swaying, sliding or spinning out of control.
SAFETY TIP: If your vehicle begins to sway or slide, make sure that you steer your wheels to the direction you wish to move in. You must remain calm in these situations and be ready to make quick corrections, as traction is regained, your vehicle will follow the direction your front wheels have been steered to.
Nothing is More Important than Your Safety
If you are uncomfortable taking to the streets during a weather event, don't do it. Your safety and well-being are far more important than anything else. If you do take to the road, do not attempt to text or use your cell phone while driving. Use your hands free speaker phone or employ your navigation app.
Always remember that no matter how good of a driver you are, you are only in control of your actions and your vehicle. Animals, fallen trees, downed power lines, pedestrians, and other drivers are all potential hazards. Have your vehicle's maintenance up to date, be on alert, and drive carefully during or after your next snowstorm.
For more car articles and maintenance tips, check out autobahn-performance.com/car-blog/
https://plus.google.com/113049509479264030696
Autobahn Performance
6476 Buford Hwy
Norcross
,
GA
30071
(770) 409-8288