With all the debris, potholes and curbs in Atlanta, It's easy to scratch, scrape or bend your rims / wheels. We are your local wheel repair shop that performs alloy wheel refinishing, rim straightening, custom coloring, wheel re-manufacturing and more!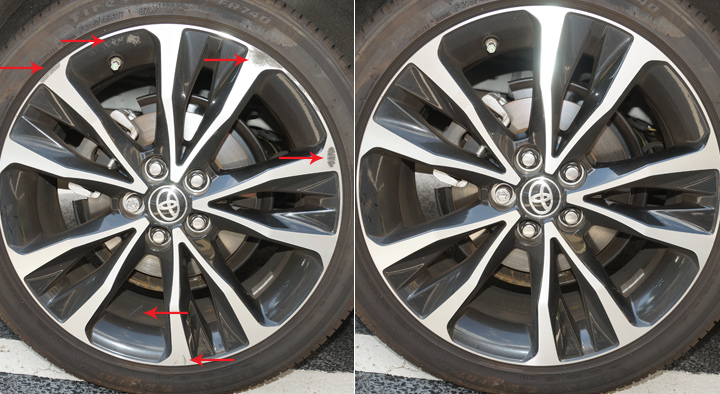 Rim Repair Services
From minor cosmetic repair to full restoration, Autobahn provides solutions for curb rash, scratches, bends, corrosion, and small cracks. After your rims are repaired, we custom color match to deliver a nearly identical rim. Take a look at our trained technicians in action:
Autobahn strives to provide top-notch quality in all that we do, thus we offer a free lifetime warranty on workmanship. Learn more about our wheel services and how we can make your scratched, gouged, discolored, and bent wheels LOOK LIKE NEW again!
Types of Wheel and Rim Damage
It isn't safe to repair every wheel, thus our car services team will inspect all of the following types of wheel damage and let you know the best course of action.
1. Curb scrapes/scratches
2. Gouges
3. Minor cracks
4. Minor corrosion
5. Rim bends
Repairing cosmetic damages requires the proper knowledge, tools and expertise. Our technicians have been thoroughly trained in all aspects of wheel repair and construction. If your wheel is too severely damaged to be safely repaired, we will suggest OEM replacements.
If you have any questions call (770) 409-8288, or just schedule your appointment here.