Frequent oil changes are a waste of your money. Over the past three decades, there have been significant engineering and technological advances in both the mechanical operation of car engines, as well as the oil we use in them.
The old 3,000 mile "rule of thumb" harkens back to a time when indeed, your engine oil should have been changed every 3,000 miles. For older (or classic) vehicles, this rule still applies. However, fast forward to present day, and newer model vehicles owner's manual will tell you differently.
Autobahn mechanics gathered the following information to assist you in understanding and making informed decisions about the need to have your car oil changed.
When Do I Need an Oil Change?
The answer to this question varies depending on who you talk to and the vehicle you drive. Your owner's manual will have a factory recommended oil change schedule, and nearly all newer model vehicles will alert you when it's time to have the oil changed.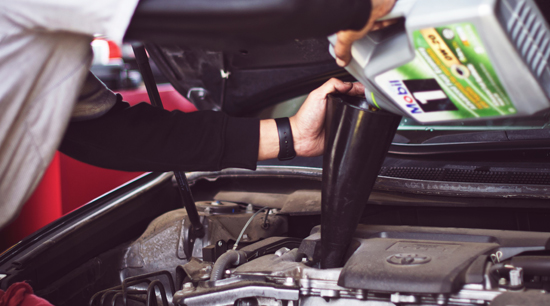 Many repair shops and mechanics will still swear by the 3,000 mile rule, and will remind you by putting it on a sticker in the corner of your windshield. For older vehicles that may be fine, but for newer model cars, you can practically double that before needing the next oil change.
Before going further, you may wonder the reason and why change my oil anyways? The purpose of an oil change is to maintain peak performance of your vehicles engine, thus protecting your investment and prolonging its life. Driving too long without changing your oil will inevitably destroy your engine and render it useless.
Here are a few things that you can do and watch for without your mechanic or car service professional:
Check The Oil Level – Once a month, you should check the engine's oil level. Here's how to do it: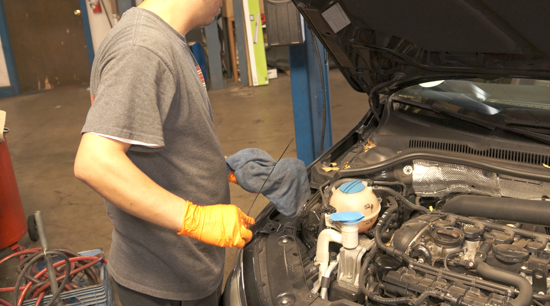 Park your vehicle on a flat surface and shut the engine off. Wait for at least 4 to 5 minutes before proceeding (this allows time for the oil to return to the reservoir).
Lift and secure the hood.
Locate the oil dipstick, pull it all the way out, wipe it clean, and put it all the way back in.
Pull the dipstick out again and look at the end of it. The dipstick will have lines, holes, crosshatching, or the words "Low/High" or "Min/Max". The oil level should be within these indicators.
If the oil level has dropped below the minimum, has metallic particles in it, or has an off color (milky), these are all signs that something may be wrong inside the engine. In these cases, have the vehicle inspected as soon as possible.
When finished, wipe the dipstick clean and put it all the way back in.

do
Monitoring System – Nearly all newer model vehicles have a monitoring system that senses how it is being driven and under what conditions it is driven. When the system alerts you to "Change Engine Oil", you should get to a mechanic or car service shop within the next 500 miles.
My Car Is Leaking Oil – If you determine that your vehicle is leaking oil, it is imperative to get it to a mechanic as quickly as possible. The issue may be as simple as tightening the oil filter, or as serious as a cracked engine block. Regardless, this is an urgent matter that must be addressed.
Professional Recommendation – While some auto makers like Audi and Volkswagen recommend oil changes every 10,000 miles, the team at Autobahn Performance recommends replacing the oil every 5,000 miles. This keeps the German cars from sludging up and having issues.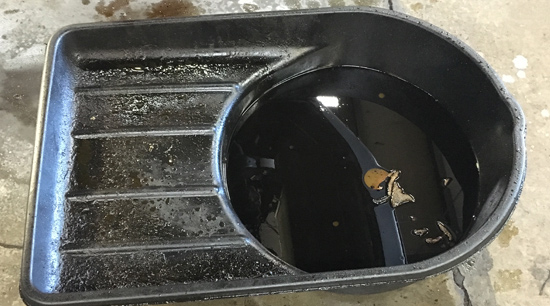 Another recommendation is to at the least schedule an oil change every 6 months. In addition to checking oil, this allows mechanics to inspect your vehicle and catch developing issues before progressing into major repairs and expenses.
Do I Need Conventional or Synthetic Oil?
Synthetic oil can cost three to four times that of conventional oil, and in many cars is not necessary. For vehicles not engineered for high performance, synthetic oil does not extend its life, or guarantee increased engine performance.
However, high-performance and luxury vehicles are engineered to and usually call for synthetic, or at least a semi-synthetic blend. A blended oil consists of conventional mineral oil and synthetic base oil. You can achieve some of the benefits of using a full synthetic oil at a lower cost when using a blend.
For conventional oil, most newer models will have the oil weight printed on the oil cap. The specifications can also be found in the owner's manual/user guide. Knowing this information will help you control what oil is being used and how much you are paying for it.
Synthetic oil is scientifically engineered to last longer and resist breakdown. This results in an oil with high levels of lubrication, and in certain vehicles can offer better protection at start-up, better cleansing qualities, and better protection against heat buildup. However, synthetic oil should only be used if the vehicle manufacturer recommends it, or in engines that are prone to having sludge issues.
NOTE: Sludge is formed and builds up when oil breaks down. This buildup will eventually block the flow of oil, resulting in the death of the engine.
Motor and Vehicle Inspection
When you take your vehicle in for an oil change, ask for an inspection of the vehicle. This is also the perfect time for a mechanic to:
Inspect the Battery
Inspect the Brake System
Inspect the Cooling System
Inspect the Hoses and Belts
Inspect the Engine and Cabin Air Filters
This is usually a good the time to have your tires rotated. While doing so, they can be inspected for abnormal wear, which may indicate the need for an alignment or suspension work.
Oil Life Monitor and Your Vehicle Owner's Manual
Newer model vehicles are leaving the factory with "oil life monitors". This instrument measures vehicle speed, engine temperatures, the climate it is driven in, and factors in how the vehicle is driven. After assessing and factoring in this data, an oil monitor will alert the vehicle operator when it is time to change the oil.
For all vehicles, the owner's manual should be the primary reference for maintenance decisions. If your vehicle is older and you do not have the manual, a quick online search will help you locate it. Another option is to reach out to a local dealership or the manufacturer for a replacement or advice on a particular issue.
The owner's manual and all of the engineering that has gone into sensors and warning systems are there to help you protect your investment. When it comes to oil changes, the answer to "Why?" is to keep your engine running at peak efficiency. The "When?" relies on you the owner to make informed decisions based on the knowledge we have shared with you.
https://plus.google.com/113049509479264030696
Autobahn Performance
6476 Buford Hwy
Norcross
,
GA
30071
(770) 409-8288