Your old or balding tires could result in loss of control of your car, a collision, or severe injury. By knowing when to get new tires, you can take action to avoid flat tires, potential accidents, and expensive repairs.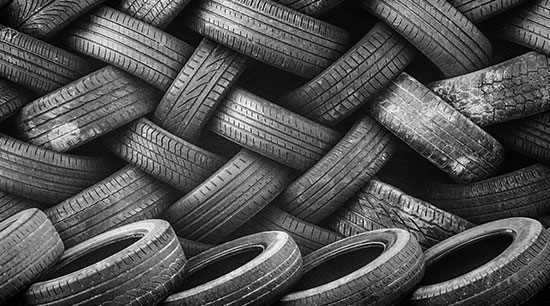 autobahn-performance.com compiled the following list of signs that tell you when to get new tires for your vehicle, and pro tips to help you check them regularly.
1. Your Tires Are Bald – Low Tread
The surface of a tire that contacts the road is called the tread. When the tread wears down to the "wear bars" or reaches 2/32", your tires need to be replaced. You can determine this measurement quickly by performing a penny test.
Tip: Place a penny in the valley of your tire's tread with Lincoln's head straight down into the tire. If you can see the top of Lincoln's head, your tire tread is below 2/32" and are bald.
Wear bars are small strips of rubber located deep in the tread valley that indicate (once the tread wears down to their level) when a tire should be replaced.
Driving on bald tires creates several hazards that may only become apparent in rainy conditions (skidding, hydroplaning, and increased stopping distances) and driving at higher speeds (reduced steering control and potential blowouts).
Note: Tread depth is what allows water to escape through the tire's grooves. Since water can't be compressed, hydroplaning may occur if it cannot escape from under the tire.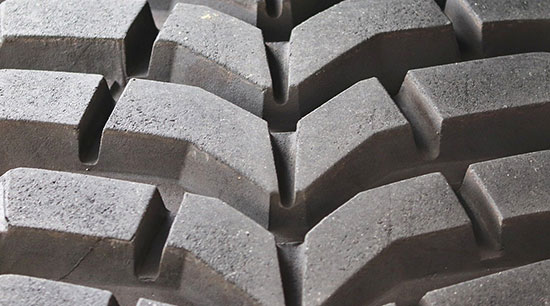 2. Your Tires Have Bulges, Gouges, or Cracks on the Sidewalls
Bulges, gouges, and cracks found on the sidewalls of your tires are indicators that your tires have aged and are breaking down. This may also indicate a flaw in manufacturing if the tires are brand new or relatively new.
The danger of driving with tires in this condition is a blowout. Depending on where a blowout occurs, it may be challenging to maintain control of your vehicle, and you may wind up crashing into another car or swerving off the road.
3. Your Tires Have Uneven Wear Patterns
Uneven wear patterns are commonly attributed to tires being out of alignment. However, this common condition may also result from driving with overinflated or under-inflated tires.
The danger of uneven wear patterns is from reduced steering control and an increased risk of sudden blowouts.
If any of your tires have unevenly worn down to the "wear bars" or the tread has reached 2/32", those tires need to be replaced.
Tip: One way to detect and resolve this issue is to have your tires rotated and checked each time you have your oil changed or have your car serviced.
4. Your Tires Constantly Lose Air Pressure
The two main reasons are loss of the mounting seal and valve stem damage or failure. These issues are resolved by replacing the valve stem or remounting the tire.
The age of your tires, stress, balding, and punctures may also lead to air pressure loss. If your tires are balding, have started to crack, or have been punctured, you may need to have them replaced.
5. You Can See Metal in the Tread
If you can see wires in your tire's tread, it is time to replace the tire. Exposed wires indicate that the tire has worn down to the carcass or casing.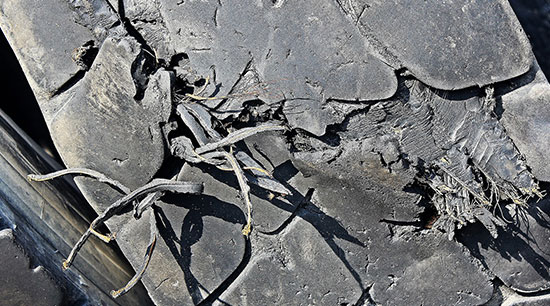 In radial tires, the wires you are seeing compose the #1 steel belt, or the #2 steel belt. When tires have worn to this point, only the body ply and the inner liner remain to keep the tire inflated and functioning.
When tread wear has reached this point, air pressure loss and blowouts are all but certain to occur.
6. You Have Been Driving Excessively on A Spare Tire
If you have been unfortunate enough to get a flat, and you put on a donut spare tire, you have about 70 drivable miles to get to a service center without causing mechanical damages to your car.
Driving excessively on a donut spare tire puts immense strain on your vehicle's differential. It causes uneven wear to occur on the tread of your tires.
Treadwear on the other tires can result in the need to replace them.
Tip: For safety purposes, do not drive at speeds above 50mph and limit your driving distance to 70 miles while using a donut spare.
Read more about driving on donut spare tires at autobahn-performance.com/audi-vw/how-long-drive-donut-spare-tire/
7. You Frequently Skid, Spin Your Tires, or Hydroplane
Loss of tread or the use of improper tires for your environment can cause skidding, spinning, or hydroplaning. When these conditions occur frequently, take your car to a service station immediately to evaluate the cause.
You may need to replace your tires to accommodate your region's weather conditions or replace the tires due to tread wear/balding.
How Many Miles Do Tires Last
Tires that come on a new vehicle are expected to last at least 50,000 miles. Tires last as long as there is sufficient tread (2/32"), and no degradation of the material it is made from occurs.
That number may dramatically decrease depending on the following factors:
• Prolonged driving on over or under-inflated tires
• Driving with wheels out of alignment
• Seldom to no tire rotation
• How the vehicle is driven
• Poor road conditions
• Driving in regions with extreme temperature variations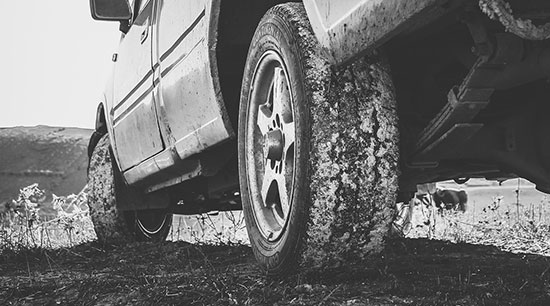 Tip: When the need to replace a single tire arises, have the other tires assessed for tread wear. If they are significantly worn (beyond 4/32" of the original tread), it is recommended to replace all four of them.
Depending on the vehicle you drive and the necessity of the region you drive in, you can expect to spend from $75 to $350 or more per tire when the time comes to replace them. By rotating your tires frequently, making sure they are at the correct air pressure, and driving your vehicle more reasonably, you can extend the life of your tires by thousands of miles.
How Often Should Tires Be Replaced
In this article, you discovered seven indicators that your tires need to be replaced, the dangers of driving under those conditions, and tips on preventing tread wear or balding.
By taking action to replace balding or defective tires, you increase your vehicle's overall performance while increasing your safety on the road.
Allowing your tire tread to wear down to unsafe levels or ignoring defects in your tires places your car and the well-being of its occupants at risk.
Sources:
coefs.uncc.edu/ptkacik/files/2014/01/PneumaticTire_HS-810-5611.pdf
cars.com/articles/how-long-do-tires-last-1420668941828/
one.nhtsa.gov/Vehicle-Safety/Tires/Tire-Safety:-Everything-Rides-On-It
Autobahn Performance
6476 Buford Hwy
Norcross
,
GA
30071
(770) 409-8288