Is your vehicle equipped with the deadly Takata airbags? Uncover the reason for the recent airbag recall and learn which vehicles are affected by these faulty airbags.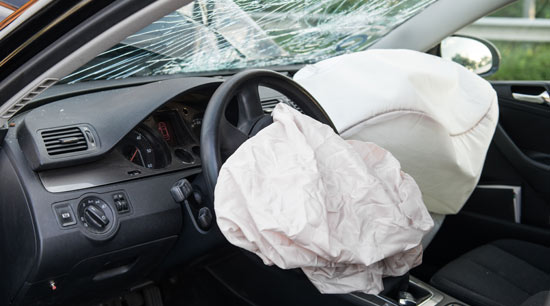 autobahn-performance.com gathered information about the Takata airbag recall, its potential damage, how you can determine if your vehicle is included in this recall, and answers to frequently asked questions.
Defective Takata Airbags
Tens of millions of vehicles with Takata airbags are currently under recall. The National Highway Traffic Safety Administration (NHTSA) strongly recommends that vehicle owners take a few simple steps to protect themselves and others from this severe safety threat.
The center of attention is the airbag's inflator (a metal cartridge filled with propellant) which has ignited with explosive force due to long-term exposure to high heat and humidity. A breach of the inflator housing can cause metal shards to be sprayed throughout the passenger cabin. Such explosions have resulted in both injuries and deaths.
Watch this video to see injuries caused by a Takata airbag inflator explosion.
What Cars Are Included in the Takata Airbag Recall?
Takata airbags are used throughout the automobile industry, and nearly all manufacturers have been affected by this recall. The following are the automotive manufacturers listed on the NHTSA web site.

Furthermore, NHTSA strongly urges consumers not to drive the following vehicles (if under recall) unless they are going straight to a dealer to have them repaired:
• 2001-2002 Honda Civic
• 2001-2002 Honda Accord
• 2002-2003 Acura TL
• 2002 Honda CR-V
• 2002 Honda Odyssey
• 2003 Acura CL
• 2003 Honda Pilot
For further information regarding these manufacturers and vehicle models, visit nhtsa.gov/equipment/takata-recall-spotlight
Vehicle Recalls by VIN
The NHTSA recommends checking your vehicle identification number (VIN) at least twice per year for active recalls.
To check your vehicle's VIN, first, locate it by looking on the lower left of your car's windshield for the 17-character Number. Your VIN can also be found on your car's registration card, and it may be displayed on your insurance card.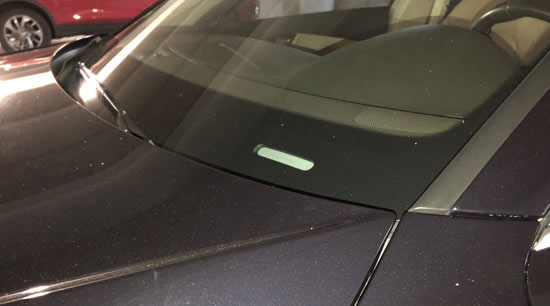 Once you have the number, go to nhtsa.gov/recalls and enter your VIN in the space provided.
This search tool will provide information on:
• Recalls dating back 15 calendar years.
• Vehicle safety recalls from major light auto automakers, including motorcycle manufacturers.
This tool will not provide information on:
• A vehicle with a repaired safety recall. If your vehicle doesn't have any unrepaired recalls, you will see the message: "0 Unrepaired recalls associated with this VIN"
• Manufacturer customer service or other non-safety recall campaigns
International vehicles
• There may be a delay with recently announced safety recalls for which not all VINs have been identified. VINs are added continuously, and it is strongly suggested to check regularly.
• Safety recalls more than 15 years old (unless a manufacturer is offering more coverage)
Remember to check your VIN twice per year by setting recurring reminders on your digital calendar.
If your vehicle is identified as being recalled, contact your dealership or vehicle manufacturer immediately for instructions on when and where to take your vehicle for repairs.
Frequently Asked Questions
Question: How many cars are affected by the Takata airbag recall?
Answer: According to the National Highway Traffic Safety Administration (NHTSA), 42 million vehicles in the United States alone are affected by the Takata airbag recall.
Question: Are vehicle recalls free?
Answer: According to the NHTSA, vehicles under recall will be fixed for free.
Question: Can a dealer sell a used car with a recall?
Answer: Yes. As long as the vehicle is listed and sold as "used," it may be sold with a recall.
Answer: No. Dealerships are prohibited from selling new vehicles with a recall.
Question: Can a dealership refuse to fix a recall?
Answer: No. When a dealer refuses to make repairs on a vehicle under a recall letter, you should notify the vehicle manufacturer immediately. You can file a complaint against the dealer with the NHTSA at www-odi.nhtsa.dot.gov/VehicleComplaint/
Question: Does it matter where I live?
Answer: Yes. According to NHTSA, the Takata inflators seem to be vulnerable to persistent high humidity and high-temperature conditions. However, several confirmed deaths have occurred in places outside of the priority recall area, this recall should not be ignored regardless of where you live.
The American states and territories have been divided into three priority zones:
Zone A – Most Critical: (hot and humid) Alabama, California, Florida, Georgia, Hawaii, Louisiana, Mississippi, South Carolina, Texas, Puerto Rico, American Samoa, Guam, the Northern Mariana Islands, and the U.S. Virgin Islands.
Zone B – Critical: (less hot and humid) Arizona, Arkansas, Delaware, District of Columbia, Illinois, Indiana, Kansas, Kentucky, Maryland, Missouri, Nebraska, Nevada, New Jersey, New Mexico, North Carolina, Ohio, Oklahoma, Pennsylvania, Tennessee, Virginia, and West Virginia.
Zone C – Less Critical: (least hot and humid) Alaska, Colorado, Connecticut, Idaho, Iowa, Maine, Massachusetts, Michigan, Minnesota, Montana, New Hampshire, New York, North Dakota, Oregon, Rhode Island, South Dakota, Utah, Vermont, Washington, Wisconsin, and Wyoming.
For owners of Audi or Volkswagen vehicles, recently there was also a timing chain recall, and more info can be found here: autobahn-performance.com/audi-vw/volkswagen-audi-timing-chain-settlement-recall-repair-reimbursement-information/
Takata Airbag Recall
If your vehicle is equipped with defective Takata airbag inflators, you may be driving around with an explosive device capable of inflicting grave injuries or causing your death if they deploy.
In this article, you discovered the reason for the recent Takata airbag recall, which vehicles are affected, how to verify whether or not your vehicle is included in it, and the answers to some frequently asked questions.
Your delay in getting a defective Takata airbag inflator replaced can result in severe harm or death of those traveling in your vehicle.
Sources:
https://www.audiusa.com/about/takata.html
https://www.vw.com/takata-recalls/
http://web.audiusa.com/recall/
https://www.consumerreports.org/car-recalls-defects/takata-airbag-recall-everything-you-need-to-know/
https://www.safercar.gov/staticfiles/rulemaking/pdf/Recalls-FAQ.pdf
Autobahn Performance
6476 Buford Hwy
Norcross
,
GA
30071
(770) 409-8288